Paint filling process. What kind of filling machine should I choose?

The paint filling process is a crucial phase in the manufacturing line since it involves significant labour costs, requires high accuracy, and must be completed as quickly as possible.
When it comes to choosing equipment for filling paint or related products, one must bear in mind that there are many models that can be adapted, to a greater or lesser extent, to the specific needs of each client and product.
The technologies that are used for paint filling are classified, according to dosing type, as follows:
In addition, the equipment may have a greater or lesser degree of automation, depending on manufacturing plant characteristics. For factories with a high level of production, more automation in the filling process is often preferred.
Let's look at each type of filling.
Gravimetric filling
For filling containers, gravimetric filling machines require weighing equipment in order to control product weight. Filling control is carried out by a scale that determines the amount of product poured by the dosing unit into the container, as appropriate. The gravimetric system controls the filled amount effectively, and it is used to fill cans, pails, drums, and containers for selling the product by weight.
In order to sell a product by weight on the market, weighing equipment approved by Legal Metrology is required.

What are the advantages of the gravimetric filling system?
When gravimetric equipment is used for paint filling, we usually refer to products sold by weight. All O+B gravimetric filling machines, such as the automatic COMBI-130 and COMBI-6 machines, or the semi-automatic OB-130 and OB-DRUM machines, have a comfortable digital display for weight control.
This equipment fills high, medium, and low viscosity products. Its technology is simple and can be cleaned quickly and easily. It has low maintenance costs and can be used for abrasive product filling. For the latter case, the significant wear of the elements in contact with this type of product must be considered.
Volumetric filling
The main advantage of volumetric filling is that it is faster than gravimetric filling, which increases the production speed. The volumetric filling units control the filling process by means of a valve that measures the volume poured into the container. They are mainly used for filling cans and pails.
Several industrial projects for filling paint or related products choose a volumetric filling solution due to its filling speed and high accuracy. The accuracy in the dosing of volumetric filling units has improved due to the emergence of new precision dosing units that can be easily adjusted according to the product to be packed.
The volumetric filling is mainly used for medium and high productions.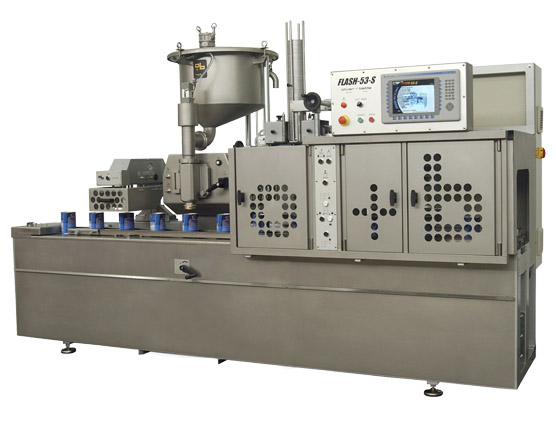 Oliver + Batlle has automatic industrial volumetric filling machines, such as the new Flash 52, Flash 25, or Flash 55, and semi-automatic units, such as the Flash-1100 or the models Flash 20 and Flash 50.

Automation of the paint filling process
Industrial filling machines are adapted to factory needs, and greater or lesser automation are possible. The filling process is usually carried out by means of semi-automatic equipment for small or medium-sized batches in all types of manufacturing plants. More automated equipment is used for large and medium-sized batches.
The most outstanding kind of automation in the paint and coating filling processes has the following characteristics:
the automation of any functioning variable, such as filling volume or weight, dosing speed, transport speed, container quality control, rejection of defective containers, among others;
the possibility of a fully automatic container format change, especially on high production volumetric filling units;
the automation of cleaning systems for dosing units and hoppers is especially requested for volumetric filling units.
Let us review some of the complements that can be added to the filling process in order to automate the entire process.
Pail denesters
In the paint industry, there is a wide variety of containers. The material (metal or plastic), shape (cylinder, conical, oval, rectangular…), handle, label and closure type (plug, thread…) are adapted to production needs and consumer demand.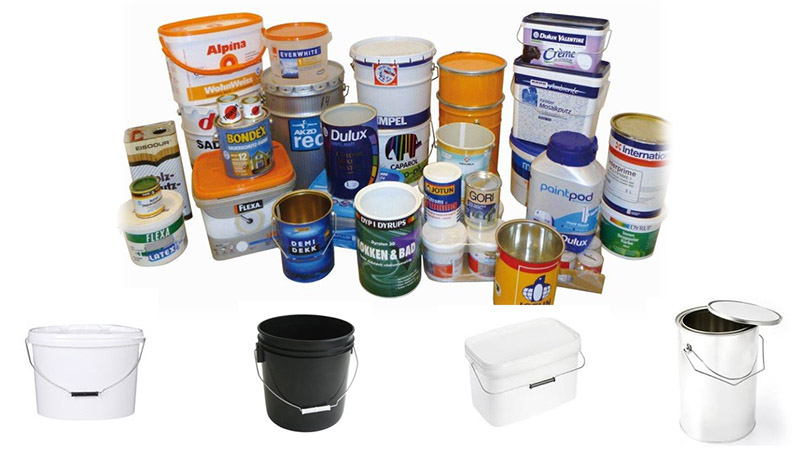 The container dispenser is a complement designed to be incorporated into high production volumetric filling units. As its name indicates, it is responsible for supplying the selected container to the automatic filling line. Some dispensers, such as the Pailmanager V-Flex, are designed for containers that are supplied in a stacked manner (conical, oval or rectangular), and they include an automatic format change that can be set on its control panel. In this way, the filling process is improved, saving a great deal of production time wasted making changes and adjustments for different formats, making the filling process efficient, even with different types of containers.
For better process automation in cases where containers are not stackable but supplied in layers on pallets, depalletiser equipment is available, such as the O+B DPT-130, which is intended for depalletizing containers in order to feed high production filling machines.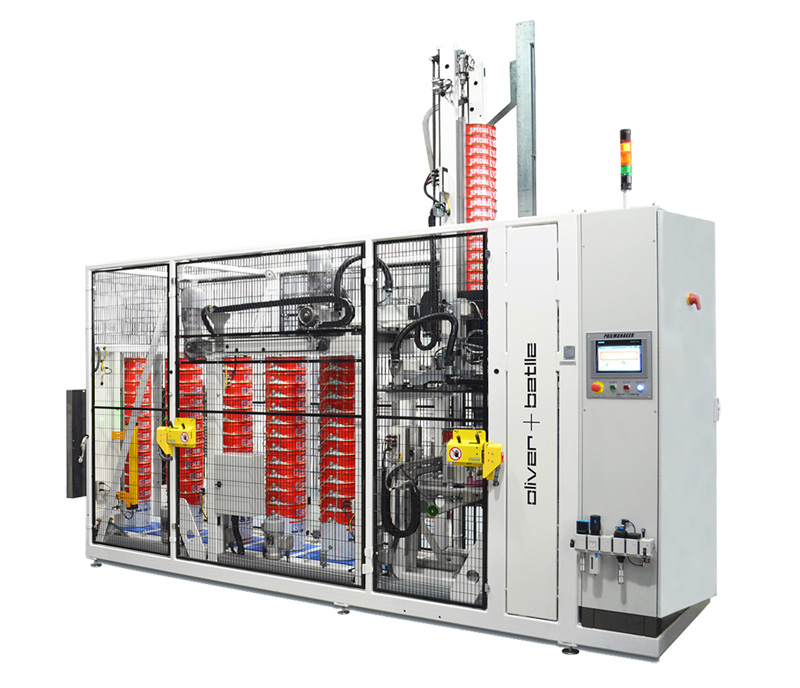 Lid dispenser
For each kind of container, different types of lids can be found on the market in terms of their shape (square, circular, oval…), material (plastic or metal), and whether they are stackable or not.
An automated filling line must incorporate a lid dispenser that can adapt to the specific needs of the manufacturing process. Oliver + Batlle offers solutions designed for automatic filling lines, such as the Flash-20350, or high production lines, such as the Flash-55 that incorporates a poorly closed lid detector by means of a laser system.
Container conveyor
Another important feature when choosing filling equipment for paints or related products is the container conveyor system. These are usually single or double-pass, with some equipment (such as the Flash-55) being able choose one system or another depending on the characteristics of the product being packaged and the production goals.
Double-pass drag conveyors optimise the filling rate, according to container type.
Pipe cleaning system
Finally, there are solutions to improve cleaning and emptying processes of filling line supply pipes. This is the case of the O+B PIGGING SYSTEM, which we will address in an article of its own.
Oliver + Batlle invites you to request more information about our solutions for paint filling through our contact page. Keep up to date with all our news in our Linkedin profile.
https://oliverbatlle.com/wp-content/uploads/2020/12/envasado-de-pinturas.jpg
430
1024
marketingDT360
https://oliverbatlle.com/wp-content/uploads/2020/04/logosin60-300x87.png
marketingDT360
2020-12-22 12:35:43
2020-12-22 16:37:23
Paint filling process. What kind of filling machine should I choose?