The manufacture of liquid phytosanitary products by means of dispersers and mills

The manufacture of liquid phytosanitary products has some characteristics that must be taken into account when choosing the most efficient dispersers and mills.
Liquid phytosanitary products or flowable products are terms generally used to name herbicides, fungicides, insecticides or fertilisers. In the past, this type of product was supplied in powder or soluble pellets. However, due to the difficulty of handling phytosanitary products in powder and due to their toxic characteristics -they can accumulate in the airways of people-, the decision was made to manufacture them in liquid form in order to avoid these issues.
The main ingredient used for the manufacture of liquid phytosanitary products is the formula's active ingredient, also called technical active ingredient. This component is normally a powdered product that is introduced into liquid media, which may be water, thinner, oil or a combination of them. The powdered component must be insoluble and evenly distributed in the liquid medium. In order to provide stability and colour, other liquids are added to these dispersions in small amounts, such as dispersing agents, defoamers, thickeners, colourants or other special additives.
Stages of the manufacturing process of phytosanitary products
The manufacturing process of phytosanitary products involves the following stages:
Dispersion of powdered ingredients in liquid medium.
Particle size refining and homogenisation.
Filtering
Storage.
Filling.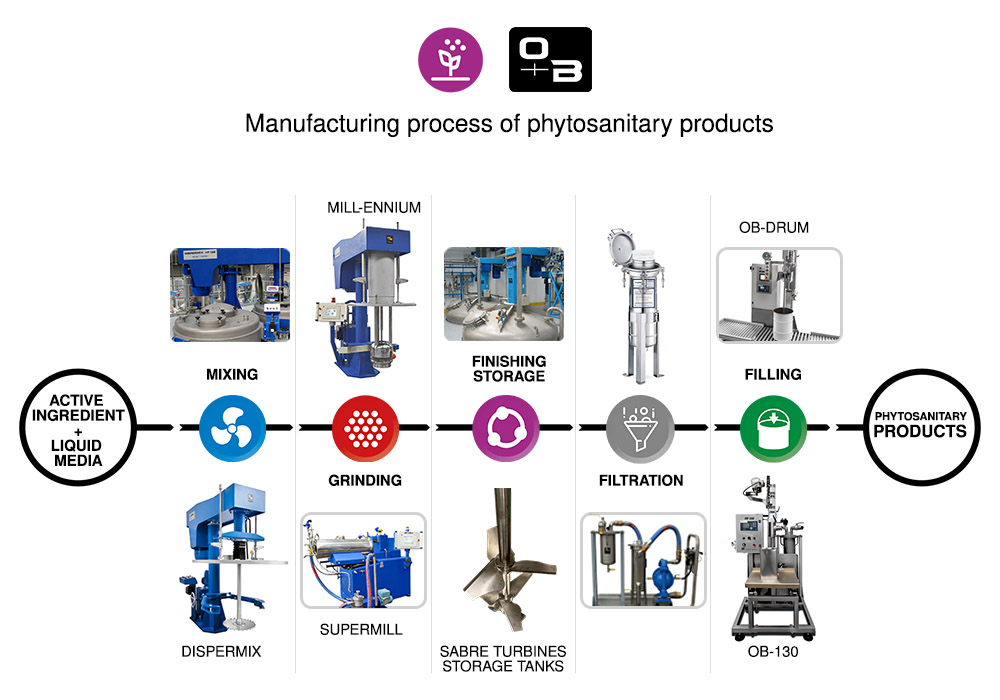 1. Ingredient dispersion
In order to carry out a good dispersion process during the manufacture of phytosanitary products, Dispermix machinery with portable vessels for batches up to 1,500 l are available. For batches larger than 1,500 l, a platform Dispermix type E or Polimix machinery can be used.
All dispersion processes must include dust collection systems to avoid environments contaminated with dust which may be toxic on many occasions.
The dispersion and grinding stages during the manufacture of phytosanitary products must be carried out at controlled temperatures not exceeding 30ºC. To avoid exceeding this temperature, it is necessary to have a good water system for cooling at a recommended temperature of 2ºC to 4ºC. The vessels used in the dispersion process must have cooling jackets working with supercooled water.
Many phytosanitary products usually contain chlorine, an element that leads to steel corrosion. For this reason, all equipment used for the manufacture of phytosanitary products must be made with AISI 316 L stainless steel materials.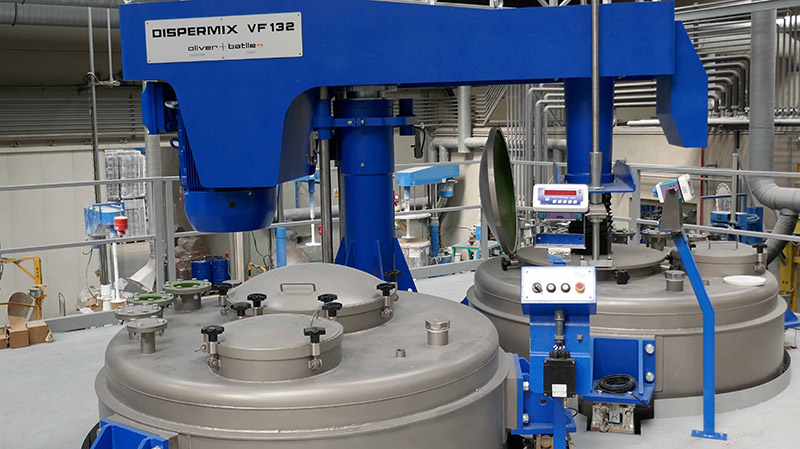 2. Grinding: particle size refining and homogenisation for the manufacture of phytosanitary products.
In the second manufacturing stage, phytosanitary products must be processed using  Millenium RS-type grinding equipment for manufacturing sizes up to 2,000 l, as well as Supermill EHP or PLUS grinding equipment for larger batch sizes. In this process, the aim is to obtain good particle size distribution, ranging between 5 and 8 microns. Therefore, it will be necessary to use yttrium or zirconium silicate micro beads in sizes between 0.7 mm and 1.6 mm. This kind of machinery must also have good cooling circuits with supercooled water at a temperature between 2ºC and 4ºC.
It is important that the parts inside the mills are chemical attack and abrasion resistant.
3. Finishing and storage
Once the particles have been perfectly dispersed, the product can be pumped into storage tanks with capacities between 10,000 or 15,000 l. In this vessel, gentle mixing is possible thanks to a mixer with Sabre turbines. It is advisable to change the speed of the mixer so that any type of modification in the formula regarding product viscosity can be made by means of its turbulence.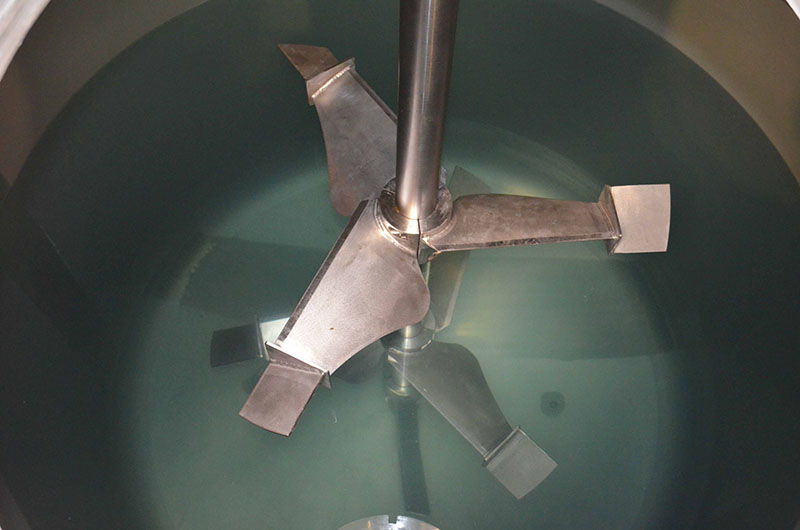 4. Filtering
Before packaging a phytosanitary product, it must be filtered. To do this, it is advisable to use pumping and filtering systems equipped with pneumatic pumps made of AISI 316L stainless steel and bag filters. The recommended filtration sizes prior to filling range between 50 and 100 microns. In this process stage, impurities that may have accumulated during the manufacturing process are separated from the product.
5. Filling phytosanitary products
Liquid phytosanitary products are usually filled in plastic jerry cans with a capacity between 5 l and 25 l. For the filling process, OB 130, OB DRUM or Pallet 1500 semi-automatic gravimetric filling machines can be used. Such machinery is filled directly from the pumping and filtering assembly mentioned in the previous paragraph.

The processes described in this article for the manufacture of phytosanitary products have been tested in our own laboratory. Oliver + Batlle has extensive experience in copper oxychloride processing with contents of up to 80% active ingredients. O+B also has experience in Pyrimethanil processing with 35% active ingredient concentrations.
Oliver + Batlle invites you to contact our specialists and ask for further information on equipment for the manufacture of phytosanitary products.
Share any doubts or experiences in the comments section and follow us on LinkedIn to keep up with our news.
https://oliverbatlle.com/wp-content/uploads/2021/07/fabricacion-fitosanitarios.jpg
430
1128
marketingDT360
https://oliverbatlle.com/wp-content/uploads/2020/04/logosin60-300x87.png
marketingDT360
2021-07-16 13:49:00
2021-09-07 16:43:31
The manufacture of liquid phytosanitary products by means of dispersers and mills