Industrial automation: how to optimise manufacturing processes

The industrial automation of production processes that we have been witnessing for decades has grown strongly in recent years due to the fact that the technology and communications necessary have become cheaper and further developed.
When a company decides to invest in automation, it does so by pursuing a series of goals which are clearly related to the competitive market in which they find themselves:
Improve manufacturing times.
Maintain a uniform level of quality over time.
Improve productivity.
Reduce costs.
Adapt production to the needs of the moment according to demand.
Oliver + Batlle works to automate your factory both at the specific machine or process level, or over the entire production plant. Our manufacturing equipment range features machinery with high automation levels. The most important are the CP process control systems that can be found on our grinding equipment, the comprehensive control systems in industrial agitators, the FLASH automatic filling machine range and the PAILMANAGER container dispenser range.
At the manufacturing plant project level, our engineering team works together with the Project Manager to design, develop and execute each element necessary to provide you with an optimal manufacturing plant or equipment.
What is industrial automation?
Industrial automation can be defined as the application of technology to production processes, mainly on machinery control and monitoring, in order to perform repetitive tasks automatically with minimal human intervention.
Devices, computing and communications come together in automated systems in order to provide greater autonomy to industrial processes. The combination of these 3 factors, together with advances in production techniques and the development of intelligent technology has given rise to what many theorists have called Industry 4.0 or the Fourth Industrial Revolution. Control system automation, industrial robotics, machine learning, artificial intelligence, nanotechnology and the Internet of Things (IoT) are set to change traditional manufacturing processes.
In the manufacturing of paints, coatings, agrochemicals, plastisols, etc., a large number of process variables can be controlled through automation, such as:
temperature,
flow rate,
speed,
pressure,
liquid levels,
volume range,
Among others.
In addition, equipment can be created to complement process-specific machinery and perform certain tasks: agitators, dispersers, mixers and industrial filling machines. This is what we at O+B call our Automation Accessories, which can perform tasks such as:
clean pipelines,
incorporate solids by vacuum in mixers and dispersers,
automate emptying processes in solid conveyor systems or production equipment,
unload big-bags to incorporate solids,
automate machine cleaning systems,
automate raw material management systems for storage, transport and dosing,
Among others.
Automated systems use hardware and software elements to perform the function for which they are designed. Sensors, actuators, control systems, PLC or robots are specifically designed according to the needs of each project.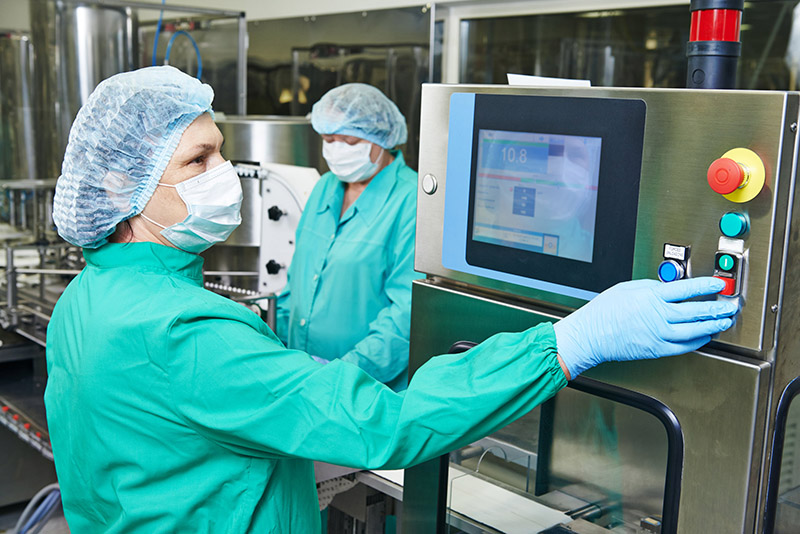 Types of industrial automation
The most commonly used types of industrial automation systems are:
fixed systems,
programmable automation,
flexible automation and
integrated systems.
Fixed automation
These are automated systems designed to streamline specific processes. They are mainly used to manufacture identical products that do not require customisation.
Programmable automation
It reconfigures and adjusts machinery and software according to customise the product. It is the most widely used when it comes to manufacturing products in batches following different specifications, since they make it easier to change the items to be produced.
Flexible automation systems
These systems adapt their configurations to product characteristics automatically, without the need to reconfigure them manually. The different versions must be configured from the beginning of the project.
Integrated systems
Thanks to programming and production control systems, it is possible to automate different machines, processes, robots, cranes, conveyor belts… In this way, it is possible to control and monitor everything from a single control system.
Advantages of industrial automation
As we mentioned when we spoke about the goals that a manufacturer has in mind when investing in only automating machinery or aiming to full manufacturing plant automation, industrial process automation provides a number of advantages such as:
Increased productivity: by improving manufacturing times while maintaining consistent quality standards, the productivity of the machine or the plant in general is increased.
Quality improvements: thanks to the maintenance of product quality levels. In this way, defective products are reduced, and the final result is adapted to the quality standards set by the company.
Cost reduction: reduced number of defective products or shrinkage, reduced costs associated with downtime for product changes, better use of raw materials, etc.
Production adaptability: depending on the type of factory and the automation implemented, production can be adapted to the demand at each time.
Increased process safety: the higher the level of automation, the less factory employees become an active element in the process, and the more they monitor and control it. A clear example of increased safety is our automated vacuum solids incorporation system, Dispervac, which eliminates dust emissions into the work environment, avoiding harmful atmospheres for employees and the environment.
Increased mobility: thanks to the possibility of implementing remote control and monitoring systems.

Oliver + Batlle has extensive experience in process machine and full manufacturing plant automation. We offer integral solutions designed according to the needs of each project. Contact us!
Share any doubts or experiences in the comments section and follow us on LinkedIn to keep up with our news.
https://oliverbatlle.com/wp-content/uploads/2021/09/automatizacion-industrial.jpg
430
1128
marketingDT360
https://oliverbatlle.com/wp-content/uploads/2020/04/logosin60-300x87.png
marketingDT360
2021-08-20 15:38:20
2021-09-07 16:47:03
Industrial automation: how to optimise manufacturing processes