Oliver + Batlle introduces the latest version of the Flash 52 automatic volumetric filling machine.
The main novelty is that the IP54 and the IP54-ATEX versions (restricted to the dosing area) have a PLC (Programmable Logic Controller) control system fitted that replaces the pneumatic logic system of the previous version. In the ATEX full machine versions, the PLC control system is available as an optional. The main improvements and advantages will be discussed in this article.
What's new in Flash-52
One of the most valuable advantages of the Flash 52 volumetric filling machine is the system that displays information about the equipment status on the HMI (Human-Machine Interface) screen. Thanks to this interface, operators and line supervisors in, for example, paint factories not only can coordinate and control industrial and manufacturing processes, but also know the filling machine status at any time.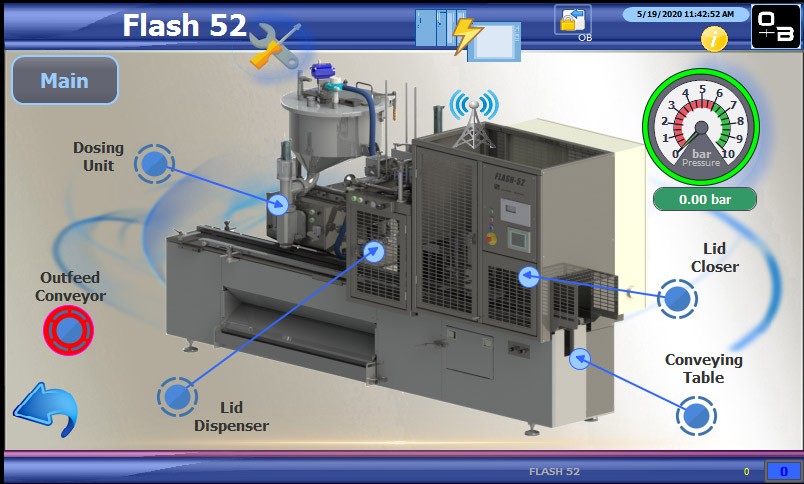 The HMI screen of the new Flash 52 shows real-time information on warnings  like:
lack of product in the hopper,
lack of lids on the dispenser,
container with no lid on it,
open doors, among others.
It also provides operational information about the filling process, enabling the control and optimisation of the production objectives set.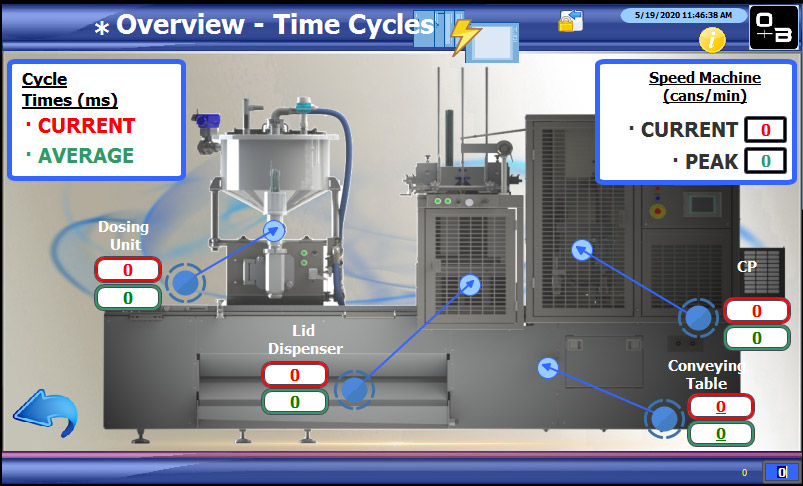 In addition, it makes failure diagnosis easier by establishing a remote connection to the O+B technical service. This not only enables quick and efficient detection of any incidents that may occur in the volumetric filling equipment, but also provides straightforward and effective resolution of such incidents.
Production information
The HMI screen of the new Flash 52 offers statistics on equipment productivity:
Total and per-cycle production times.
Filling speed per cycle (containers/minute)
Maximum total and per-cycle productivity.
Cadence per station (dosing unit, lid dispenser, closing device)
This provides accurate information on its production capacity automatically and in real time. The immediate availability of information significantly reduces some of the more costly problems faced by a production line, often caused by lack of information or human error in recording it.
Data have become essential in today's economy and, especially, in manufacturing processes. Having accurate data available can help optimise production processes. Within this framework, the HMI system of the new Flash 52 filling machine becomes a great ally for the staff in any industry.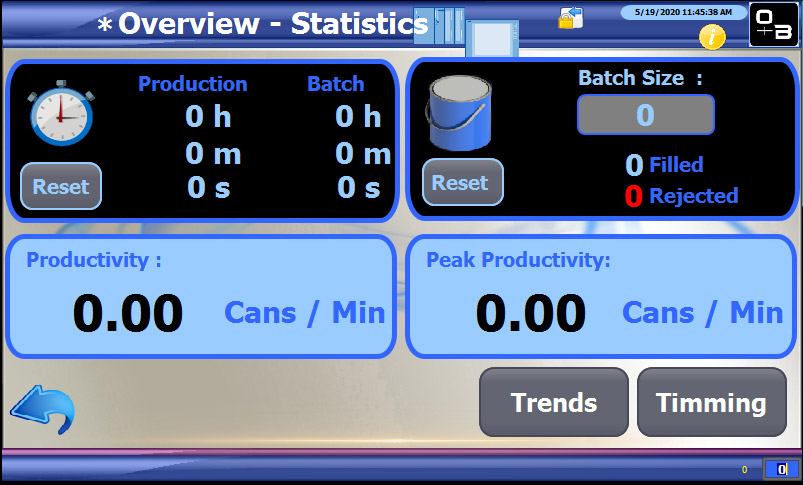 Other functions
Suitable for filling containers for paints, varnishes, glues, adhesives, liquid inks, and similar products. The Flash 52 equipment is an automatic line that offers a wide variety of features.
It enables the volumetric filling of all types of cans from 50 to 250 mm in diameter, as well as multi-dosing on the same container for volumes greater than 5 litres. Furthermore, it features an automatic cleaning cycle of the dosing unit that requires virtually no intervention by the operator, thus simplifying equipment maintenance and set-up.
Finally, as in its previous version, the new Flash 52 includes a lid detector, and a press-on lid closing unit.

Oliver + Batlle warranty and services
The new Flash 52 is more than an efficient and precise volumetric filling machine. It features a series of innovations aimed at meeting our clients' needs by optimising production processes.
After more than 60 years of experience in the manufacture and design of machinery for paint factories, we know our clients' priorities. This experience, combined with the know-how and qualifications of our expert team, has led us to develop high-quality equipment that features the latest technological innovations to optimise production processes.
Oliver + Batlle hopes this information has been interesting. Please, feel free to request further details on the new Flash 52 filling equipment through the contact section.
Share any doubt or experience in the comments section and follow us on LinkedIn to keep up with our news.
https://oliverbatlle.com/wp-content/uploads/2020/05/nueva-flash-52.jpg
430
1024
Equipo Oliver+Batlle
https://oliverbatlle.com/wp-content/uploads/2020/04/logosin60-300x87.png
Equipo Oliver+Batlle
2020-05-28 17:54:08
2020-10-05 09:49:00
New Flash 52: introducing the latest version of the O+B filling machine with new features and advantages