In 2010, Oliver and Batlle launched to the market the mixer-disperser of tronco-conical geometry Polimix DPS-ORC. This industrial dissolver has progressively gained an outstanding market position among the industrial machinery for new generation dispersion processes.
Different types of products can be manufactured with Coaxial-conical Polimix mixers: Varnishes, lacquers, water-based paints, solvent-based paints, tintometric bases, inks, adhesives, plasters,  or any other chemical requiring a mixing or dispersion process.
Geometry for different size of production batches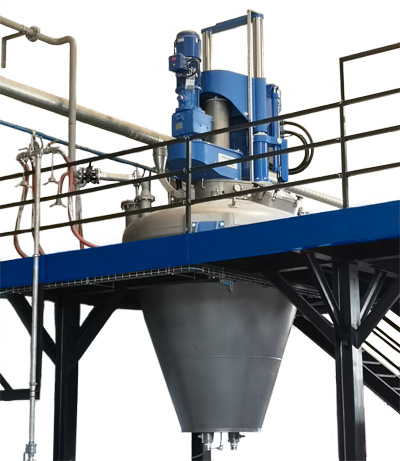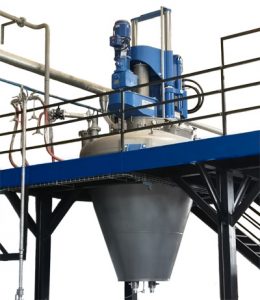 Tronco-conical geometry of POLIMIX DPS-ORC makes possible the use of the industrial mixer in dispersion processes   both for small or large batches.
The Coaxial-conical Polimix disperser can start an agitation process in a liquid environment with small volume,  and the minimum quantity of product required to start dispersion process at a high speed is similar than required for agitation process. Taking into consideration these minimum values, coaxial-conical dispersers can produce not only small but also large production batches.
Capacities of Coaxial-conical POLIMIX DPS-ORC
The table below shows the five different models currently manufactured by OLIVER + BATLLE :
Capacities of Coaxial conical POLIMIX DPS-ORC
Model
Useful capacity (L)
Min. agitation capacity (L)
Min. dispersion capacity (L)
DPS-3000-ORC
3.000
235
560
DPS-4000-ORC
4.000
235
690
DPS-5000-ORC
5.000
235
735
DPS-6000-ORC
6.000
300
1200
DPS-8000-ORC
8.000
650
1600
In accordance with the volumes showed in the table,  the five models outlined can cover manufacturing processes with capacities from 235 liters up to 8.000 liters.
Any kind of mixers to be adapted to your manufacturing process
Standard models of POLIMIX DPS-ORC have two types of mixing groups:
Centered fast shaft for dispersion processes. It can be fitted with two blades mounted at different heights , raising-lowering system, electronic speed variation , and standard or high powered motorization in accordance with properties of product to be produced.
Slow shaft equipped with a frame type agitator, parallel to the vessel wall, to be completed as an option with scraper to remove product form the vessel wall. Normally the slow shaft runs at a single speed, but it could be upgraded with electronic speed variation depending on the application.
Safety for the operators and environmental protection
Thanks to the complete tightening of the Coaxial-conical Polimix tank, the manufacturing processes take place protecting the environment of the operators working area from vapors or dust particles.
The tightness allows inertization systems inside the vessel, working under vacuum and to apply pressure for easy emptying of high viscosity products.
In case of evaporation of some of the raw materials, a condenser can be installed to recuperate the vapours, which are transferred to the production vessel.
OLIVER + BATLLE disperser machines are also available for production of flammable products in explosion-proof areas, homologated with ATEX ZONE 0 certificate.
Electric components are offered with different levels of electric protection: IP 54 or ATEX, in accordance with the production area where the equipment is installed.
Wide range of accessories to adapt the disperser machine to your manufacturing process
The tank of the Coaxial Conical POLIMIX can be equipped with heating or cooling systems, by means of external cooling jackets or U-shaped cooling coils that will allow to carry out the manufacturing processes with a great control of temperature of the products to be manufactured.
The Polimix machines also have a wide variety of accessories such as:
vessel illumination lamp,
porthole for manufacturing process observation,
temperature probe for different parts of the machine,
weighing system,
cleaning systems with automatic cleaning heads.
In line with what has been mentioned above, this type of disperser machine equipped with  such a variety of accessories, is  very suitable and very recommended for automation. With a suitable automation process,  high quality product manufacturing processes and a complete process traceability can be achieved.
Solids vacuum loading: the newest feature for Coaxial conical Polimix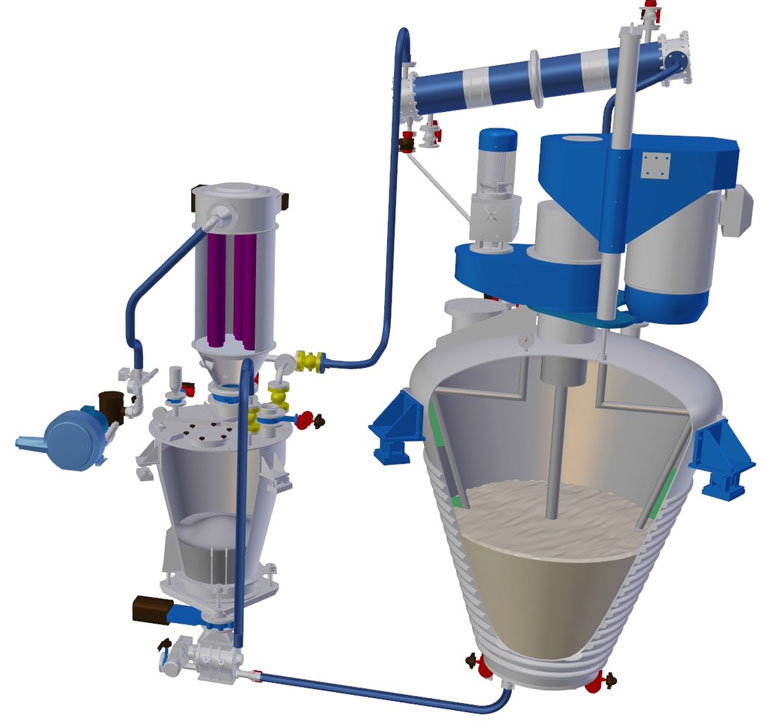 The most recent application for POLIMIX DPS-ORC, is the system for loading powder solids under vacuum through the bottom of the tank. This method developed by Oliver + Batlle, under the trade name SIDIVAC, allows the incorporation of powdered products through the bottom of the Polimix directly into the liquid. With this type of process we can incorporate lightweight solids such as Aerosil, microspheres and micronized pigments, or other types of charges such as talc or calcium carbonates.
If you have to implement any manufacturing process for high quality or high value added chemicals, please consult our Sales Department and we will propose the best solution for your process.
We invite you to visit our mixing equipment section and follow us on LinkedIn.
[/av_textblock]
https://oliverbatlle.com/wp-content/uploads/2020/07/1-16-13-Polimix.jpg
449
770
Equipo Oliver+Batlle
https://oliverbatlle.com/wp-content/uploads/2020/04/logosin60-300x87.png
Equipo Oliver+Batlle
2020-07-06 14:56:49
2020-10-01 16:38:22
Coaxial-conical Polimix: disperser machine for new manufacturing processes