Paint & Coatings, an international event bringing together the main companies working in the surface treatment and paint technology sector, will be held on 16 and 17 November at Fira Barcelona.
As a company specialised in developing machinery for manufacturing paint and related products, Oliver + Batlle will be present at the event, not only on the expo -where you can visit us at Stand 108-, but also at online events and webinars that will take place during the months leading up to the event. Let's have a look at some of them.
Paint & Coatings e-connecting
Among some of the online events developed by Paint & Coatings since May 2020, O+B is hosting the following webinars, which can be accessed at any time if you sign up:
Immersion mills: the most flexible alternative for grinding processes
On the next 3 June 2021, Víctor Macià Coll, our Area Sales Manager will host a free webinar on basket milling, which can be accessed for free by registering on the event's website- The webinar will cover the advantages and flexibility that immersion mills offer in the grinding stage within the manufacturing processes of paints and related products.
These presentations, together with those hosted by other professionals participating in the event, are aimed to discovering new trends, raw materials, equipment and processes from the main suppliers in the paint and coatings industry.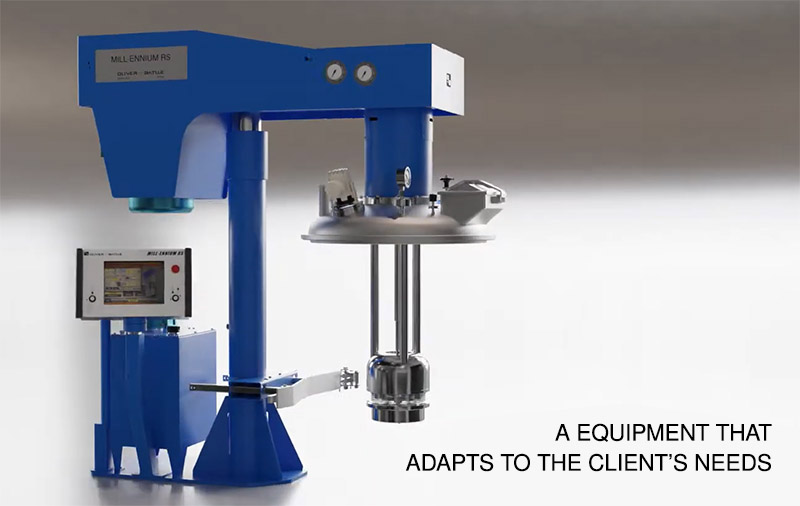 Vacuum powder loading
In May 2020, Joaquim Oliver, managing director of Oliver + Batlle, gave an online presentation on the advantages of vacuum powder loading with regards to products that are difficult to handle when manufacturing paint and inks with the O+B system.
A technology that allows the raw material to be incorporated into the hopper through a suction system that avoids dust emissions to the outside. Click on the following link for further information about DISPERVAC.
If you were unable to attend the presentation and would like to see it again, you can access it by registering on the Paint & Coatings website
In the same line, next 16 November 2021 Joaquín Oliver will give a lecture on "Loading TiO2 during paint and ink vacuum manufacturing processes: a fast, efficient and non-polluting system". Further information.
Comprehensive pipe cleaning system
In November 2020, Víctor Macià Coll, Area Sales Manager of O+B, hosted a webinar on the pipe cleaning system developed by Oliver + Batlle.
This automatic cleaning system makes a major contribution towards optimising production processes in the paint industry and making time and resources profitable in an environmentally friendly way.
The presentation is available in video format through the following link: https://www.paint-coatings.es/seminar/ec10/. To access, you only have to register online.
Post-pandemic events in the paint industry
In addition to Paint & Coatings, Oliver + Batlle will be present at other international events in the sector, such as:
European Coating Show Nuremberg
The European Coating Show will take place in Nuremberg from 14 to 16 September 2021. This international event takes place every 2 years, and showcases the latest innovations in the paint and coatings sector.
Since its inception in 1991, this event has become one of the most important in the sector, hosting 1,156 stands in 2019 with 69% of international companies.
Oliver + Batlle would like to invite you to our stand at the next European Coating Show in Nuremberg, Hall 4, Stand 4-156.
Middle East Coatings Show Dubai
A meeting that will take place next September 2021 in Dubai in which the main benchmark companies of the coating industry's entire supply chain will participate: raw materials, production equipment, machinery, related products, etcetera.
 Oliver + Batlle will be delighted to meet you at the MECS 2021 from 27 to 29 September 2021 at Stand E03.
Eurocoat 2022
Postponed until March 2022 due to the pandemic, Eurocoat is an event for the paint, varnish, printing ink, glue and adhesive industry that takes place in Paris and brings together more than 200 stands, technicians, workshops, conferences…
On 29, 30 and 31 March 2022 we will be waiting for you at the Oliver + Batlle stand at Eurocoat 2022.
If you would like to book an appointment at any of the events mentioned above, go to the Contact us section.
https://oliverbatlle.com/wp-content/uploads/2021/06/paint-coatings.jpg
430
1128
Equipo Oliver + Batlle
https://oliverbatlle.com/wp-content/uploads/2020/04/logosin60-300x87.png
Equipo Oliver + Batlle
2021-06-07 09:30:10
2021-06-07 09:30:10
Oliver + Batlle at Paint & Coatings 2021